sun25oct1:00 pmsun3:00 pmSold Out!キッズ Halloween Glowing Alien Abduction with UV flashlight!w/Cathy1:00 pm - 3:00 pm ArtBar Daikanyama
Event Details

Alien Abduction Halloween Fun with Blacklight Flashlight!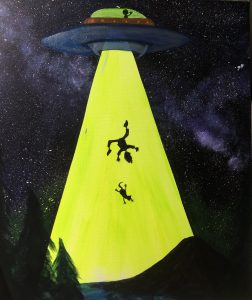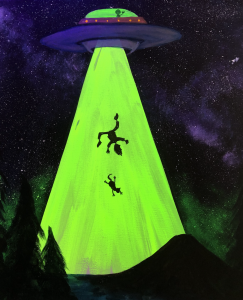 このセッションではお子様の年齢には関係なく、 お子様が本来持っている想像力を掻き立てます。 このセッション は9歳から12歳のお子様が、対象です.
画材、エプロン等 絵を描くのに必要なものは全て揃っていますので、そのままお越しください。絵の経験は不要です。
12:45から参加出来ます
1時からセッション開始
【料金】
子供 (Children) ¥4o00+tax
【内容】
・飲み物(水、お茶、ジュース etc… )
・絵のお持ち帰り
UFO Halloween Abduction! with take home Blacklight Flashlight
Join us for halloween fun! Paint aliens abducting friends and family in a glow in the dark beam of light and let it glow at home using your take home blacklight flashlight! We will have spooky spaced out treats for the kids! No experience necessary,. Come as you are!
This session is geared for kids aged 9-12
Doors Open: 12:45  Painting Session 1pm – 3pm
Session Includes:
All Materials including a blacklight flashlight
Green Tea, Juice or Water
Popcorn and Cookies
Time

(Sunday) 1:00 pm - 3:00 pm
Location

ArtBar Daikanyama

東京都渋谷区代官山町 7-2
Buy Ticket
イベントの24時間以上前にキャンセルされた場合は、別の日に開催されるイベントにご参加いただくことができます。 24時間未満のキャンセル及び、ご連絡なしに当日ご参加されなかった場合は、払い戻しも、別のイベントへの参加の権利もございませんので、ご了承ください。 Notify us via email at least 24 hours prior for cancellation and you will receive a credit to participate on another date Less than 24 hours notification or no shows will not receive refund or credit
aliens
こちらのイベントは終了しました。 This event has ended.