sun05sep6:00 pmsun8:00 pmSold Out!YOKOHAMA 私のペットの絵 Paint Your Pet!w/Luci6:00 pm - 8:00 pm
Event Details
Paint Your Pet @ Yokohama Marine & Walk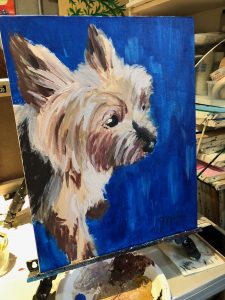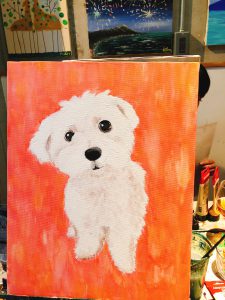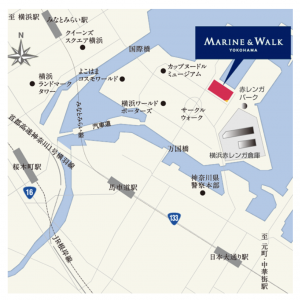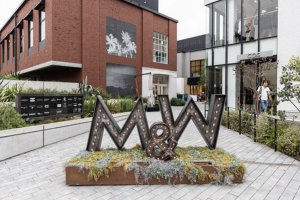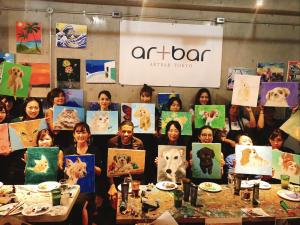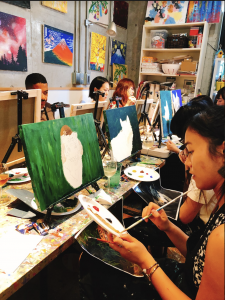 アートとワインの楽しい時間をご一緒しませんか?
アートバー東京ではワインやソフトドリンクが飲み放題。おつまみもご用意しています。友人と一緒に、あるいは新しい友達を作りながら、楽しく絵を描きましょう。経験豊かな講師が、個別に丁寧にお教えしますので、誰でも素敵な作品を完成させることができます。
大好きなあなたのペットをペイントしましょう!先生が手伝ってくれるので、絵が苦手でも大丈夫です。参加する前にあなたのペットの写真を送ってください。こちらでスケッチをしておきますので、セッションの間に色を塗ってあなたのペットの絵が出来上がり。犬、猫、ウサギ、鳥. . . 何の動物でも大丈夫です!ワインを飲みながら楽しい午後を過ごしましょう。
画材、エプロン等 絵を描くのに必要なものは全て揃っていますので、そのままお越しください。絵の経験は不要です。
こちらは期間限定のポップアップイベントですので、Google mapには表示されません。地図を表示する際にはマリン&ウォーク横浜で検索して下さい。
このイベントはマリン&ウォーク横浜の2階で開催されます。住所:神奈川県横浜市中区新港1-3-1
1745から参加出来ます
18時からセッション開始
【料金】
大人 (Adults) 5500円(税込) Tax Included【内容】
・絵画レッスン ・ワイン(白、赤)
・飲み物(水、お茶、ジュース etc… )
・絵のお持ち帰り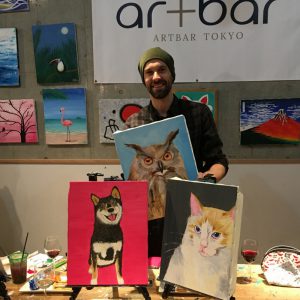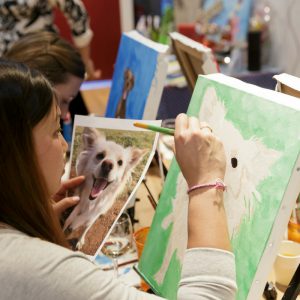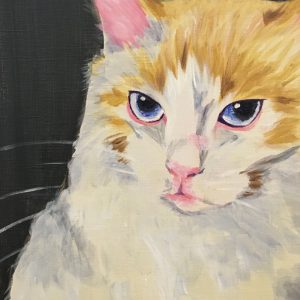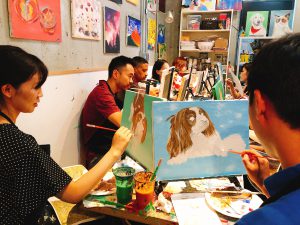 Paint your Pet! @ Yokohama Marine & Walk 
Take a sip. Unwind. Let's paint at Artbar Tokyo! Only at Artbar can you enjoy all-you-can-drink wine, soft drinks, plus light snacks. All levels are always welcome, you don't have to be a pro to paint! Let's get creative, meet new people, and hang up your masterpiece at home!
Cherish your favorite member of the family with a portrait! No experience is necessary as we will lead you thru. We will sketch the outline of your pet before you arrive. We will help you with shading and detail to make your painting come alive! Relax, have a glass of wine and share your afternoon with fellow animal lovers. Dogs, cats , rabbits, birds,..we invite them all.
Show your love for your pet with fellow animal lovers! Come join the fun.
This is a limited-time pop-up event, so it will not be displayed on Google map. Please search for Marine & Walk Yokohama when displaying the map.
This event will be held on the 2nd floor of Marine & Walk Yokohama. Address: 1-3-1, Shinko, Naka-ku, Yokohama-shi, Kanagawa
Doors Open: 17:45 – Come in, Relax and meet new friends
Session: 18:00~20:00
【料金】
大人 (Adults) 5500円(税込) Tax Included
Session Includes:
All instruction and Materials
Glass of White or Red Wine
Non-Alcoholic Beverage, Green Tea, Water or Juice
Light Snacks
Time

(Sunday) 6:00 pm - 8:00 pm
Buy Ticket
イベントの24時間以上前にキャンセルされた場合は、別の日に開催されるイベントにご参加いただくことができます。 24時間未満のキャンセル、当日ご参加されなかった場合は、払い戻しも、別のイベントへの参加もできませんので、ご了承ください。 キャンセルの上ご返金をご希望の場合には500円の手数料が発生致します。 Notify us via email at least 24 hours prior for cancellation and you will receive a credit to participate on another date Less than 24 hours notification or no shows will not receive refund or credit. There is a processing fee of 500 yen per refund.
Paint Your Pet! @ Yokohama Marine & Walk
こちらのイベントは終了しました。 This event has ended.