sun10jan1:00 pmsun3:00 pmSold Out!Kids Only -ラマ Smiling Llamaw/Michi1:00 pm - 3:00 pm ArtBar Daikanyama
Event Details

Kids Only -ラマ Smiling Llama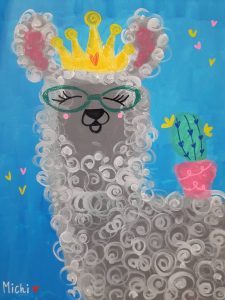 お子様のみ参加できるセッションですので、お母様はお子様の送り迎えのみ。お帰りの際には自宅に飾る作品が完成しています。スナックとソフトドリンクはご用意していますが、食べ物のお持ち込みは可能です。こちらのセッションは5歳から12歳までのお子様に適しています。
1250から参加可能
1時からセッション開始
【料金】
子供 ¥3,500外税

【内容】
・飲み物(水、お茶、ジュース etc… )
・絵のお持ち帰り
Smiling Llama
Kids will love this cute smiling Llama!  Parents drop kids off with us and when you pick them up you will have your very own child's masterpiece for the home.
We will provide light snacks and drinks but you can also bring additional food if you like.
This session is geared for kids aged 5-12
Doors Open: 12:50 pm Drop off your child for a 2 hour session
Painting Sessions 1 pm~3 pm
【Fee】
Children ¥3,500+tax
Session Includes:
All Materials
Green Tea, Juice or Water
Light Snacks, and Cookies
Time

(Sunday) 1:00 pm - 3:00 pm
Location

ArtBar Daikanyama

東京都渋谷区代官山町 7-2
Buy Ticket
Smiling Llama
イベントの24時間以上前にキャンセルされた場合は、別の日に開催される東京・福岡でのイベントにご参加いただくことができます。 24時間未満のキャンセル、当日ご参加されなかった場合は、払い戻しも、別のイベントへの参加もできませんので、ご了承ください。 キャンセルの上ご返金をご希望の場合には500円の手数料が発生致します。 Notify us via email at least 24 hours prior for cancellation and you will receive a credit to participate on another date Less than 24 hours notification or no shows will not receive refund or credit. There is a processing fee of 500 yen per refund.
こちらのイベントは終了しました。 This event has ended.