sat02jan7:00 pmsat9:00 pm終了しました日本画風 金魚と猫 Ukiyoe Style Fish and CatWith /Hadsky7:00 pm - 9:00 pm ArtBar Daikanyama
Event Details
日本画風  金魚と猫 Japanese Edo Style Goldfish and Cat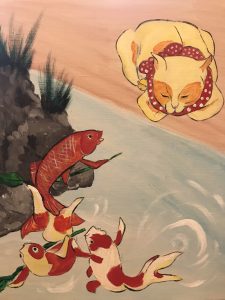 江戸時代の絵師-金魚と猫
歌川国芳の浮世絵に似た. ユーモアと愛に溢れた
猫と金魚をアクリル絵の具で描きませんか?
画材、エプロン等 絵を描くのに必要なものは全て揃っていますので、そのままお越しください。未経験でも驚くほど上手な作品が完成します。
ワイン、ソフトドリンク、おつまみをご用意しておりますが、お好きな食べ物のお持ち込みやデリバリーのオーダーも可能です。
18:45開場
19:00時からセッション開始
【料金】
大人 (Adults) ¥5000外税
【料金に含まれるもの】
・絵画レッスン、画材
・お飲み物:ワイン(白、赤)、水、お茶、ジュース etc.
・おつまみ
・絵のお持ち帰り
Japanese Goldfish and  Cat
Ukiyoe inspired, these Goldfish prepare to battle with the uninterested cat. Similar to the Original Utagawa Kuniyoshi print, Hadsky made a more gentle cat, looking to make friends not war.
Take a sip. Unwind. Let's paint at Artbar Tokyo! Only at Artbar can you enjoy all-you-can-drink wine, soft drinks, plus light snacks. All levels are always welcome, you don't have to be a pro to paint! Let's get creative, meet new people, and hang up your masterpiece at home!
No experience necessary! We provide drinks and snacks but as always, you are welcome to order in.
Doors Open: 18:45 Come in, Relax and meet new people
Painting Session: 19:00~21:00
(Adults) ¥5000+tax
Session Includes
All Materials and Instruction
Red or White Wine and Non Alcoholic Beverages
Light Snacks
Time

(Saturday) 7:00 pm - 9:00 pm
Location

ArtBar Daikanyama

東京都渋谷区代官山町 7-2
Buy Ticket
イベントの24時間以上前にキャンセルされた場合は、別の日に開催される東京・福岡でのイベントにご参加いただくことができます。 24時間未満のキャンセル、当日ご参加されなかった場合は、払い戻しも、別のイベントへの参加もできませんので、ご了承ください。 キャンセルの上ご返金をご希望の場合には500円の手数料が発生致します。 Notify us via email at least 24 hours prior for cancellation and you will receive a credit to participate on another date Less than 24 hours notification or no shows will not receive refund or credit. There is a processing fee of 500 yen per refund.
Cat and goldfish
こちらのイベントは終了しました。 This event has ended.