sun19jul1:00 pmsun3:00 pmSold Out!キッズ ポロックKids Only - Paint Like Pollockw/Kiyoe1:00 pm - 3:00 pm ArtBar Daikanyama
Event Details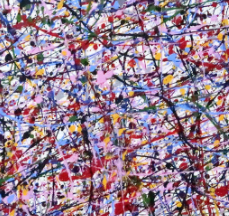 人気のジャクソン・ポロックのクラスです。通常は大人のイベントですが、お子様バージョンを企画しました!お子様が好きな色を選んで、先生がマスターピースの作り方を優しく楽しく教えてくれます。このクラスでは、お洋服に絵の具がつくことが予想されますので、よごれても大丈夫な服を着せてください。保護者はお子様をドロップオフ。お子様は自由な画風を目一杯楽しみ、お迎えの際には素敵な作品をお持ち帰りになれます!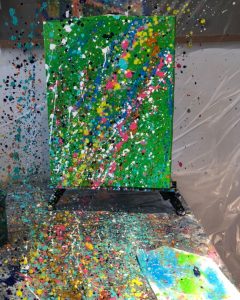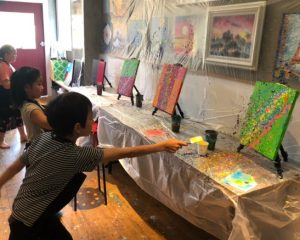 This is one of our most popular and stress relieving classes. Usually for adults, we thought we should let the kids have a try! Kids choose their own colors and we teach them the techniques to create their own masterpieces. This class is quite messy so please wear something you don't mind getting paint on! Parents drop kids off with us and when you pick them up you will have your very own child's masterpiece for the home.
We will provide light snacks and drinks but you can also bring additional food if you like.
This session is geared for kids aged 5-12. THIS IS A MESSY CLASS SO BE SURE TO DRESS ACCORDINGLY
Doors Open: 12:50 pm Drop off your child for a 2 hour session
Painting Sessions 1 pm~3 pm
Green Tea, Juice or Water
Light Snacks, Popcorn and Cookies
Time

(Sunday) 1:00 pm - 3:00 pm
Location

ArtBar Daikanyama

東京都渋谷区代官山町 7-2
Buy Ticket
イベントの24時間以上前にキャンセルされた場合は、別の日に開催されるイベントにご参加いただくことができます。 24時間未満のキャンセル及び、ご連絡なしに当日ご参加されなかった場合は、払い戻しも、別のイベントへの参加の権利もございませんので、ご了承ください。 Notify us via email at least 24 hours prior for cancellation and you will receive a credit to participate on another date Less than 24 hours notification or no shows will not receive refund or credit
Pollock Kids
こちらのイベントは終了しました。 This event has ended.